About 30 Days with King David: On Leadership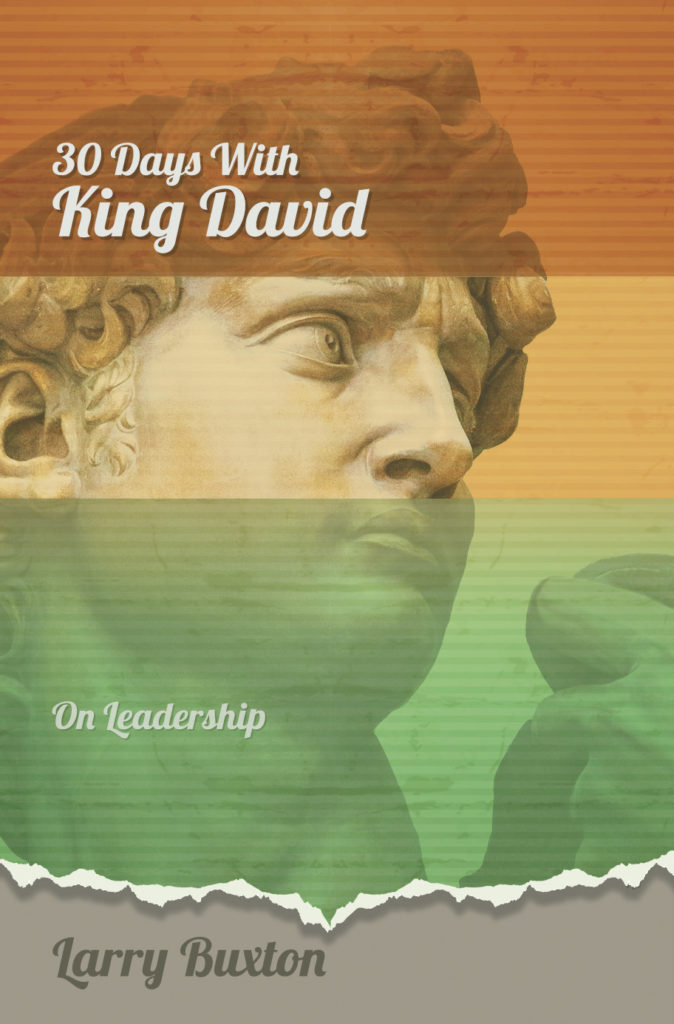 30 Days with King David: On Leadership is as suitable for individual reading as it is for book clubs, small group discussions, home schooling and retreats. It can be ordered from Amazon, Barnes & Noble and Walmart.
In this book I trace the life of the Old Testament hero King David through the lens of character, rooted in the ancient tradition of the Cardinal Virtues. With the events of David's life organized into 14 chapters, each chapter looks thoroughly at one aspect of David's character and how well or poorly he expresses it. I also explore the implications of each dimension of character for leading families, congregations, businesses, and organizations today.
I write from an unapologetic Christian viewpoint, but I also draw on Jewish and Muslim traditions, leadership studies, Family Systems Theory, history, poetry and other resources to paint a wide picture of David's life and influence.
Praise
Here is a sample of the praise 30 Days with King David: On Leadership is receiving:
Buxton's insights cross religious lines of demarcation and provide universal insights.
For those seeking to read the life of King David through a Christian lens and to extract lessons of leadership therein, 30 Days with King David is accessible and entertaining. Rev. Buxton weaves elements of popular culture, political history, and modern management theory into this ancient story.
Larry Buxton gives the reader a wide array of readable material on the substantive subjects of the complex King David, the virtues to which all religious people of good will aspire, and what all this means for leadership. Your 30 days with this book will be well-spent.
This book is a fascinating guide that brings King David's story to the help of contemporary individuals' quest for a virtuous life rewarded with success. Rev. Larry Buxton seamlessly connects landmark scenes from the King's life with challenges that test the contemporary individual's leadership qualities. Hardly any other perspective will capture the profound relevance of this story for our society better than Rev. Larry Buxton's decades long experience in executing and teaching leadership.
Buxton is obviously familiar with—and at ease with—the real-world problems faced by leaders both at home and at work.  The connections he makes between David's journey and the challenges of contemporary leaders flow naturally, with no far stretch of the imagination required. There is always a substantive take on the challenge of leadership today, followed by thoughtful questions that invite the reader to go deeper. Buxton somehow or other manages to nudge the reader to take seriously the invitation to a more reflective engagement, a more mature self-awareness, a more honest look in the mirror.
Larry Buxton has written an engaging study/devotional book based on the biblical story of David that ought to be on everyone's list for group study or personal use.  Using the lens of the classical theological virtues, he focuses on David as a model for leadership in church and society that allows us to learn from David's admirable qualities and glaring failures as the 'man after God's own heart.' The 30 day journey is well worth taking with Buxton as a learned guide through the rich material of David's life, and reflections on the virtues needed for effective leadership in our time.
From blockbuster material, Rev. Buxton assembles 30 short chapters on key leadership traits—patience, vision, humility, integrity, openness, tenderness, forgiveness, courage, gratitude, self-control, surrender, perseverance, calmness, justice—and looks into how David, at different moments in his life, either exhibited the traits or catastrophically failed to achieve them. The chapters are probing and conversational, with references from the worlds of literature, sports, politics and entertainment to illustrate how to apply these lessons to our everyday challenges.
If you aspire to be a leader: read this book. It is a road map that will help to form your conscience. If you are a leader: read this book. It will have you reflecting on how you accepted and responded to that challenge—and will leave you better able to meet the challenges ahead. If you are teaching leaders: read this book. You will have new context to help form and launch the leaders of character we so urgently need to send into our world today.
Summary
In turbulent times, King David united a nation—and his hard-earned wisdom can bring us together today. He is honored by Jews, Christians and Muslims alike. In this book, pastor, educator and leadership coach Larry Buxton shows us how David embodies 14 crucial values shared by effective leaders to this day. This new book offers a month of readings plus rich ideas for small-group discussion or personal reflection.
The first volume in this series invites readers to spend 30 Days With Abraham Lincoln, one of the greatest unifying figures in American history. In the same spirit, Buxton's book calls us to remember and cultivate those deeper values that unite us.
Buxton dedicates this book "to everyone who believes that the character of any leader is of critical importance … and to all those who seek to let God shape their character as more virtuous human beings, that their influence may spread to heal our world."